Hold your wedding or special event with us in the heart of Historic Bethlehem!
Come and See What We Have to Offer
For more information, site tours, or to discuss our very affordable rates, please contact the church administrator at (610) 866-7652 or email.
Our beautiful, historic church is located in the heart of Bethlehem's Historic District
just a short drive from Routes 22, 78, 378, 33 and the PA Turnpike. Find directions here.

There is so much to explore, experience and do in Bethlehem! Whether you enjoy music, history, shopping, or just getting outdoors, there's something here for you. With sight-seeing, historic attractions, the casino, our beautiful downtown shopping districts, wonderful restaurants and non-stop festivals, it may just be too much to fit into one day!

There are a variety of great hotels and bed & breakfasts that you can choose from to fit every budget and every taste. So, relax, take your time and take in everything Bethlehem has to offer!
We Have Just the Right Space for your Event
Sanctuary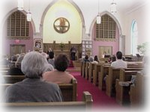 Our beautiful, historic sanctuary seats up to 250 people. The old world charm, new grand piano, and the glowing stained glass windows make it the perfect setting for your wedding or special event.
Community Room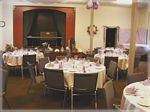 This room can accommodate 165 people, or just over 100 seated at tables. It has a small stage for a DJ or performances, as well as enhanced sound and a projection screen.
The Community Room and the adjoining bathroom are both served by a handicapped accessible entrance.
Serving Kitchen
On the same floor as the community room is a small kitchen that can be used to serve refreshments to arriving wedding guests, or serve as a buffet area for dinners.
Fellowship Hall

This large room can seat 210 people. Offers a stage for entertainment. Lots of room to dance and have a great party.
Commercial Kitchen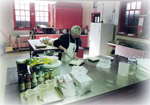 The large professional kitchen, adjacent to the Fellowship Hall, has plenty of counter space for food preparation and serving, a commercial oven and a stove top, refrigerator, and freezer. Perfect for preparing food for your private event, or for long term commercial use by caterers, bakers, etc.
Meeting Rooms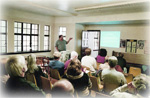 On our 2nd and 3rd floors, we offer a wide variety of classrooms and meeting rooms. The room size ranges from large rooms with floor space for activities such as yoga, to smaller rooms that are perfect for meetings and classes.
We have a variety of tables and chairs
In summary the UUCLV Offers
Beautiful Sanctuary
Bridal party changing room
Meeting rooms
Class rooms
Large event rooms
Large commercial kitchen
Comfortable serving kitchen
BYOB Permitted
Caterer of your choice
Day & Evening Rentals
Printing services available