'One with the Earth'

A unifying symbol promoting environmental awareness. The symbol design represents the sun (the source of all life's energy),water (covers 70% of the Earth's surface), land (30% of the Earth's surface) and life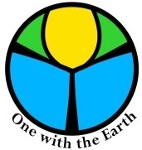 The UUCLV has adopted "One With the Earth" symbol developed by Alliance for a Globally Sustainable Healthy Environment (http://www.agshen.org) for Green Committee printed materials.
AGSHEN hopes to make this a universal symbol to promote respect for the earth and all its inhabitants.
Green Sanctuary
We're proud to announce that The UU Church of the Lehigh Valley received Green Sanctuary certification in September 2005. Since the Green Sanctuary Committee was formed in 2003, members have worked diligently to create a more sustainable and environmentally-friendly world by making our church buildings greener, raising awareness in the congregation about living more lightly on the earth through education and service projects, and by becoming a model of environmental stewardship in the Lehigh Valley. We've also tried to save the church money via improved building efficiency and energy conservation. It's been a remarkable team effort.
To read about everything that we accomplished over the years leading up to our certification go here.